Message of Appreciation From This Year's Sandhurst Team (Forwarded by Brian Cameron)
Dear Mr. Cameron,
I trust this email finds you well. I wanted to express our sincere gratitude for your generous support of our team. Thanks to the contribution from the class of '64, we recently received the much-needed training clothing and shoes, which has significantly boosted the morale of the team.
Your support has allowed us to intensify our training, with rigorous workouts twice a day, reminiscent of the dedication you likely exhibited in your own athletic pursuits. Additionally, we had the invaluable opportunity to enhance our skills through a session with cansofcom in Petawawa, focusing on mastering the P226 pistol.
Once again, thank you for your instrumental role in propelling our team forward. Your generosity is greatly appreciated, and we are committed to making the most of this support to excel in our endeavors.
Best regards,
OCdt Mathieu Trudeau
M2131
OCdt (IV) | Élof (IV)
CSL Otter sqn | COMO Escadron Otter
Sandhurst Team manager
Royal Military College of Canada | Collège militaire royal du Canada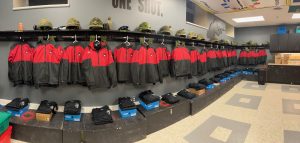 Sandhurst Team
It has been a few years since I have had any news to relate concerning our Class involvement with the SANDHURST team: I am pleased to report that the team is fully operational and anxious to work with us. Although they competed at West Point this year, the notification to do so was very short and "we" deemed it probable that most of us were not ready for a gathering so soon after masking was cancelled. However, for 2023 we would like to become more proactive with the team.
Two items follow that you can copy to your search engine. The first is titled SPARTAN RUN which enabled the team to bond and train at a challenging location. It was conducted in Collingwood at Blue Mountain. Search youtube site Spartan Run and you can learn more than you ever wanted to know about it. The team rated it as excellent and are grateful for our support which made it possible. The second site has a self-made video of team training that will introduce you to the 2022/23 participants.
Spartan Race : https://www.youtube.com/watch?v=XJGdnmmvlpk
Team Video : https://www.youtube.com/watch?v=SMAr9Dst9fg
Some general remarks. This team has a more participative attitude towards the Class of 1964 than I have previously experienced. For whatever reason, the team is now known synonymously as the Sandhurst team and the Military Skills Team. The team consists of 19 members, 4 females and 14 males. For competitions, 11 members are selected to participate (9 males and 2 females). Normally 9 people run in the competition and 2 spares. Someone who makes the roster for a competition is not guaranteed a spot for a second competition.
They have multiple training opportunities lining up with different units across the CAF. However, these training opportunities do not require funding or financial support. If they are allowed to get some sort of footage or recap of these events then they intend to release it to us.
As for competitions, they are still waiting for the invitation for the Chimaltlalli competition in Mexico. This competition usually occurs in the second half of February. The competition in West Point has been confirmed and the team will be there from 23-30 April 2023
In preparation for the Mexico competition, the team has a 30 km "Gut Check" event, lined up for end of January. Around the 15km mark, there will be a few skill stands + physical fitness involved. This could be a good time to drop in and see the team in action. The rest of that event is running with a ruck on the back, a little less interesting to watch.
Closer to the present. On 03 December 2022  the team will be conducting range training at CFB Kingston. The team would make some time available for you to try the range or just observe the action. It's an opportunity to interact with the team. Let me know if you are interested and I'll send more details?
Initial overtures have been made, on your behalf, to resurrect the hosting of our infamous May luncheon with the team in conjunction with the 2023 Graduation week.
That's about it for now. Stay healthy, Brian
******************************************************************************
Cela fait quelques années que je n'ai pas eu de nouvelles à raconter concernant notre implication de la classe avec l'équipe SANDHURST : Je suis heureux d'annoncer que l'équipe est pleinement opérationnelle et impatiente de travailler avec nous. Bien qu'ils aient concouru à West Point cette année, la notification a été très courte et "nous" avons jugé probable que la plupart d'entre nous n'étaient pas prêts pour un rassemblement si peu de temps après l'annulation du masquage. Cependant, pour 2023, nous aimerions devenir plus proactifs avec l'équipe.
Suivent deux éléments que vous pouvez copier dans votre moteur de recherche. Le premier est intitulé SPARTAN RUN qui a permis à l'équipe de créer des liens et de s'entraîner dans un endroit difficile. Il a été mené à Collingwood à Blue Mountain. Recherchez le site youtube Spartan Run et vous pourrez en apprendre plus que vous n'auriez jamais voulu en savoir. L'équipe l'a qualifié d'excellent et est reconnaissante de notre soutien qui l'a rendu possible. Le deuxième site contient une vidéo de formation d'équipe réalisée par vous-même qui vous présentera les participants 2022/23.
Course spartiate : https://www.youtube.com/watch?v=XJGdnmmvlpk
Vidéo d'équipe : https://www.youtube.com/watch?v=SMAr9Dst9fg
Quelques remarques générales. Cette équipe a une attitude plus participative envers la promotion de 1964 que celle que j'ai connue auparavant. Pour une raison quelconque, l'équipe est maintenant connue sous le nom d'équipe Sandhurst et d'équipe de compétences militaires. L'équipe est composée de 19 membres, 4 femmes et 14 hommes. Pour les compétitions, 11 membres sont sélectionnés pour participer (9 hommes et 2 femmes). Normalement 9 personnes courent dans la compétition et 2 remplaçants. Quelqu'un qui fait partie de la liste pour une compétition n'est pas assuré d'avoir une place pour une deuxième compétition.
Ils ont de multiples opportunités de formation alignées avec différentes unités à travers les FAC. Cependant, ces opportunités de formation ne nécessitent pas de financement ou de soutien financier. S'ils sont autorisés à obtenir une sorte de séquence ou un récapitulatif de ces événements, ils ont l'intention de nous les communiquer.
Quant aux concours, ils attendent toujours l'invitation pour le concours Chimaltlalli au Mexique. Cette compétition a généralement lieu dans la seconde quinzaine de février. La compétition à West Point a été confirmée et l'équipe y sera du 23 au 30 avril 2023
En préparation de la compétition mexicaine, l'équipe organise une épreuve de 30 km " Gut Check ", prévue fin janvier. Autour de la marque des 15 km, il y aura quelques stands d'habileté + condition physique. Cela pourrait être un bon moment pour venir voir l'équipe en action. Le reste de cet événement se déroule avec un ruck sur le dos, un peu moins intéressant à regarder.
Plus près du présent. Le 03 décembre 2022  l'équipe organisera une formation sur le champ de tir à la BFC Kingston. L'équipe mettrait du temps à votre disposition pour essayer la gamme ou simplement observer l'action. C'est l'occasion d'interagir avec l'équipe. Faites-moi savoir si vous êtes intéressé et je vous enverrai plus de détails?
Des ouvertures initiales ont été faites, en votre nom, pour ressusciter l'organisation de notre tristement célèbre déjeuner de mai avec l'équipe en conjonction avec la semaine de remise des diplômes 2023.
C'est tout pour l'instant. Reste en bonne santé, Brian
Results- Les résultats
https://everitas.rmcclub.ca/2019-rmc-sandhurst-team-puts-in-inspiring-effort-at-west-point/
REUNION 2019
(Le texte français suit)
Dear Classmates,
Plans are coming along nicely for our 55thClass of 1964 Reunion on September 13-15. We have organized a number of Class of 1964 activities to complement those organized by the College for members of the Old Brigade.
Class of 1964 Activities
Friday evening Meet and Greet 19:00 hrs:This will be a served dinner at the Donald Gordon Conference Centre, 421 Union Street with a cash bar before and during the dinner. There will be a pre-set three-course meal, with Lobster Stuffed Chicken Supreme as the main course. As a vegetarian alternative, Roast Vegetable Strudel is available if ordered in advance. The dining room will be organized in tables of eight. If a group of eight wants to reserve a table in advance, we are prepared to do this for you provided a) you have eight persons and b) you pay the reunion fee in advance. Otherwise, seating is unreserved.
Saturday morning memorial to remember deceased classmates: As at past reunions, we plan to organize this remembrance event to precede the Saturday Cadet Parade.
Saturday Class Lunch:A cold lunch (sandwiches, salad, fruit) will be provided after the Cadet Parade at HMCS Cataraqui across Highway 2 from the College. There will be a cash bar. We plan to have a brief Class meeting after the lunch. (This will be in lieu of the Ex-Cadet Club Lunch.)
Sunday Leftovers Tailgate Party:As is traditional, we meet near Fort Frederick after the Sunday Parade.
Fees
The fee for all Class of 1964 activities will be $85 per person (i.e., $170 per couple). This covers the Friday dinner, Saturday lunch, plus other costs like HMCS Cataraqui room rental, name tags, etc. We strongly prefer that you pay in advance by sending a cheque to Rob Boadway. Whether you pay in advance or not, we need to know who is coming so we can order the right number of dinners.
Old Brigade Activities
These activities are optional, and you have to book some of them through the Ex-Cadet Club yourself. They include the Legacy Dinner on Thursday evening, the Recruit Obstacle Course on Friday afternoon, the First Year Badging Parade on Saturday morning, the RMC Ex-Cadet Club Lunch on Saturday, the Old Brigade Dinner on Saturday evening at the Four Points Hotel, the Ex-Cadet Parade to the Arch on Sunday, and the Old Brigade Lunch after the Parade to the Arch.
We will be asked to supply volunteers to present coins to the cadets after the Obstacle Course and to participate in the badging ceremony during the Saturday Parade. More details on this will be sent at a later date.
Accommodation
You are responsible to arrange your own accommodation. 30 rooms have been reserved for the Class at the Donald Gordon Centre. These are comparable to good hotel rooms. The 2019 RMC Reunion room rates are $169 plus tax for single occupancy and $189 plus tax for double occupancy. Room rates include breakfast and free parking. To book a room, contact the Donald Gordon Centre at 1-866-455-2655 and make the reservation under the group name RMC 64. These rooms are limited in quantity and are first-come first-served.
There are also a number of hotels in downtown Kingston, including Holiday Inn, Delta, Marriott Four Points Sheraton, Confederation Inn, Ambassador, and others. As well, there several nice inns, including Frontenac Club, Rosemount, Hochelaga, Belvedere and Secret Garden.
If you have any questions about these, contact us.
We have already heard from a number of you that you plan to attend. If you have not yet done so, please let us know as soon as you are able if you plan to attend, and if you will be accompanied. It would be great to see as many of you as possible, and we are really looking forward to it.
Rob Boadway (on behalf of Jim Barrett, Brian Cameron and Régis Robin)
203 College Street
Kingston, ON K7L4L9
Chers camarades de la classe de 1964,
La planification pour la réunion du cinquante-cinquième anniversaire de la classe 1964, du 13 à 15 septembre 2019 progresse bien. Voici une liste des activités ''classe 1964'' pour accompagner celles organisées par le Collège pour les membres de la Vieille Brigade.
Activités "Classe '64"
Vendredi soir : 19h 00 Rencontre sociale et dîner- « Meet and Greet »
Ce sera un dîner servi au Donald Gordon Conference Center, situé au 421 Union Street, avec un bar payant avant et pendant le repas C'est un repas 3 services, dont le Suprême au Poulet Farci au Homard comme plat principal. Comme alternative végétarienne, le Strudel aux Légumes grillés est disponible sur commande préalable. La salle à manger sera organisée en tables de huit. Si un groupe de huit souhaite réserver une table à l'avance, nous sommes disposés à le faire pour vous si: a) vous êtes huit personnes et b) vous payez les frais de réunion à l'avance. Sinon, les places ne sont pas réservées.
Commémoration, samedi matin, en souvenir des camarades décédés de notre classe:
Comme lors des réunions précédentes, nous prévoyons organiser cet événement commémoratif précédant la parade des cadets du samedi.

Lunch du samedi:
Un déjeuner froid (sandwiches, salade, fruits) sera servi après le défilé des cadets au NCSM Cataraqui, de l'autre côté de l'autoroute 2, à partir du Collège. Il y aura un bar payant. (Ceci remplace le déjeuner du club des ex-cadets.) Il y aura une brève réunion de classe après le déjeuner.

« Tailgate party » le dimanche:
Comme lors des réunions passées, nous nous retrouverons près du Fort Frederick après le défilé du dimanche pour partager une dernière collation avant de partir.
Les frais :
Les frais pour toutes les activités de la classe 1964 seront de 85 $ par personne (c'est-à-dire 170 $ par couple). Cela inclus le dîner du vendredi, le lunch du samedi midi, ainsi que d'autres coûts tels que la location de salles dans le NCSM Cataraqui, les macarons d'identification, etc. Nous vous recommandons fortement de payer à l'avance en envoyant un chèque à Rob Boadway. Que vous payiez à l'avance ou non, nous avons besoin de savoir qui viendra afin de pouvoir commander le nombre de dîners nécessaires.
Nous avons déjà reçu plusieurs réponses nous signifiant votre intention d'être présent. Ce serait formidable d'être le plus grand nombre possible. Alors, si vous ne l'avez pas encore fait, veuillez nous informer dès que vous le pourrez si vous prévoyez assister et si vous serez accompagné.
Activités de la vieille brigade
Ces activités sont facultatives et vous devez en réserver certaines par l'intermédiaire du Club des anciens. Elles incluent le dîner Héritage du jeudi soir, la course d'obstacles des recrues le vendredi après-midi, le défilé du samedi matin, le dîner de la Vieille brigade le samedi soir au Four Points Hotel, le Défilé des ex-cadets à l'arche le dimanche matin et le déjeuner de la vieille brigade après le défilé à l'arche.

On demandera à la Classe de fournir des volontaires pour remettre les pièces commémoratives du Club aux nouvelles premières années après la course d'obstacles et pour participer à la remise des insignes du Collège lors du défilé du samedi. Plus de détails à ce sujet seront envoyés à une date ultérieure.

Hébergement
Vous êtes responsable de votre propre hébergement. Nous avons réservé 30 chambres pour la Classe au Donald Gordon Center. Celles-ci sont comparables à toutes bonnes chambres d'hôtel. Les tarifs des chambres sont de 169 $ plus taxes en occupation simple et de 189 $ plus taxes en occupation double. Le tarif des chambres comprend le petit-déjeuner et le stationnement. Pour réserver une chambre, contactez le Donald Gordon Center au 1-866-455-2655 et faites la réservation sous le nom de groupe RMC 64. Ces chambres sont en quantité limitée et sont réservées selon le principe du premier arrivé, premier servi.
Il existe également un certain nombre d'hôtels dans le centre-ville de Kingston, notamment Holiday Inn, Delta, Marriott Four Points Sheraton, Confederation Inn, Ambassador et autres. En outre, il y a plusieurs belles auberges B&B, y compris Frontenac Club, Rosemount, Hochelaga, Belvedere et Secret Garden. Si vous avez des questions à ce sujet, n'hésitez pas à nous contacter.
Rob Boadway (au nom de Jim Barrett, Brian Cameron et Régis Robin)
203 College Street
Kingston, ON K7L4L9
essage from Brian Cameron on the Class Fund
Let me leap on Rob's message by adding a financial request for the CLASS FUND. The CLASS FUND is distinct from the CLASS ENDOWMENT FUND: the latter is actionable between the RMC FOUNDATION and the individual and is tax deductible. The CLASS FUND absorbs costs, as they surface, deemed to be reasonable for the whole Class to share ...website, advance holding costs, the annual lunch with the Sandhurst team, miscellaneous. This year the monthly recurring website fees are being paid by John Leech...thanks John. In round numbers, the FUND needs $800 ̶$1000/year or $4500 to cover the 5 years between our reunions. While that would equate to about $30 from each of the persons who will receive this email, unfortunately, not all will contribute, and contributions to the CLASS FUND are not tax-deductible. If you will not be attending the reunion please don't hesitate to send a cheque made out to B Cameron 639 Braeside Cres, Kingston, ON, K7P1G6. Thank you for your support and attention to this matter,
Brian.
Message de Brian Cameron à propos du 'CLASS FUND'
Suite au message de Rob, permettez-moi d'ajouter une demande financière pour 'THE CLASS FUND'. Ces fonds sont distincts du fonds du 'CLASS ENDOWMENT'. Les contributions à ce dernier fonds peuvent faire l'objet d'une transaction entre 'THE RMC FOUNDATION' et le don est déductible d'impôt.
Le fonds de la classe absorbe les coûts, qu'il est raisonnable de partager avec le groupe entier : les frais de participation anticipés, le lunch annuel avec l'équipe Sandhurst, etc. Les contributions au fonds de la classe ne sont pas déductibles fiscalement. Cette année, les frais mensuels récurrents sur le site Web sont payés par John Leech ... merci John ! Le fonds a besoin approximativement de 800 $ à 1 000 $ par an ou de 4 500 $ pour couvrir les cinq années qui séparent nos réunions. Cela représente environ 50 $ par personne qui recevront ce courriel. Malheureusement toutes ne contribueront pas L  Si vous n'assisterez pas à la réunion, nous vous prions d'envoyer un chèque à l'ordre de Brian Cameron au 639 Braeside Cres, Kingston, ON, K7P1G6. Un grand merci pour votre soutien.
Brian
Hi Classmates. As we approach our REUNION in 2019 I, Brian Cameron, would like to make you more aware of the MILITARY SKILLS TEAM that the Class of 1964  supports. As I write this at 7AM, some 73 cadets are right now spending 1 hour on 3 consecutive mornings doing tryouts for the few places available on the 2018-2019 team. As the current team captain advised me yesterday "
The members of the team and I greatly appreciate the contribution the class of 64 has given us. Through this team we are learning how to become not only better, well rounded individuals, but future leaders of the Canadian Armed Forces."
Your support 5 years ago enabled the then SANDHURST TEAM to survive a lack-of-funds issue with the College and these cadets appreciate our continuing support.
Here is a link so that you can download the video pitch given to those attending the tryouts.